But was it ever really gone?
Top photo: Creamy Tresana Blanco flooring shows itself off in a modern kitchen complemented by dark wood.
Bring back the boring? Not exactly. When most people think about using beige in their designs, they might be too quick to dismiss it amidst all the murmurings of white as the go-to color of the moment. But think about why beige was always so popular and why it has such staying power in home décor, traditional as well as modern.
Beige is a warm and engaging partner for many classic colors: Navy, blues, brown tones, greens, and black. Beige cleverly pairs with white, softening its clinical nature and creating a tone-on-tone look that is simply brilliant. Just as wood kitchen and bath cabinetry and even brass fixtures have sustained the trends, so does the mighty beige.
If you're seeking a monochromatic scheme – beige will soften the room, while keeping it warm and cheerful.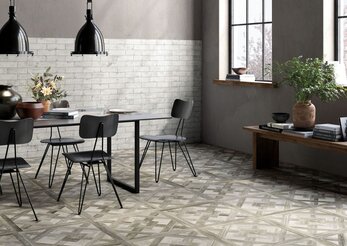 Want a little modernization in your beige? Why not go with an elongated subway or brick-look tile? Use a monochromatic taupe or beige and combine tile patterns. Frame out with subway and go for either a one-inch hex, or a basketweave for the largest wall areas. If you're a fan of French Country try complimenting beige tile with soft grey wood-look flooring.
Allow the softer elements in your room to take center stage. Pop in a touch of color in your wall paint, soft goods, floral arrangements or wall art. Keeping the fixtures and the tiling neutral allows these elements to shine without glaring at you.
Looking for a more linear look? Start with taupe, vanilla or creamy marble tile tones — then add dark wood as the framing elements or brush stroke. Even black iron fixtures lend a hand here in outlining the room, while the tile work takes a back seat. Dark accent walls will also do the trick.
Here are two more great choices from Terra Tile & Marble for neutral flooring – classic and modern:
Creamy Tumbled Durango Travertine in an oversized 16"x16"
Cemeto Cassero concrete-look Beige oversized tile